The Scene That Celebrated Itself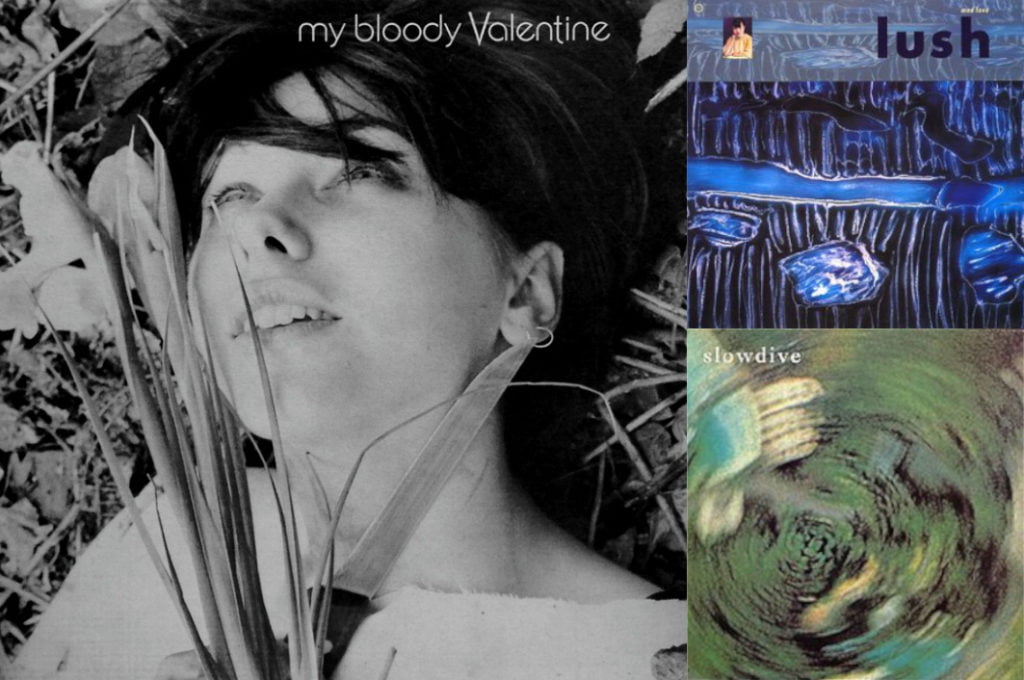 I can remember either hearing or reading an interview in early 1991 in which The Cure's Robert Smith was asked why it was taking so long to record a follow-up to their 1989 LP Disintegration, to which he replied that there was no great hurry because there was so much other great music around at that time for people to enjoy. The music he was referring to was that created by an ever-expanding list of bands producing a style of guitar music that had captured the imagination of both music fans and the music press, at the forefront of which were Lush, Ride, Slowdive and My Bloody Valentine. At that point this burgeoning independent movement was at the peak of its popularity, having first entered the wider public consciousness with The Chart Show UK TV appearances of the videos for Chelsea Girl by Ride and De-luxe by Lush in January and February 1990. This had been a gift for anyone looking for an alternative to electro chart pop, retro-centric rock, the Madchester scene, and the thin and fragile sounding indie guitar music of the time. What the music of Ride, Lush, Pale Saints and the multitude of bands who followed had in common was a winning combination of energy, melody, harmony, and noise.
This was fertile ground upon which a new scene could grow. The seeds had been sown throughout the mid to late '80's, with Spacemen 3, Cocteau Twins, Pixies, Throwing Muses, Jesus and Mary Chain and Sonic Youth all playing their part, but it was My Bloody Valentine's You Made Me Realise EP, released in August 1988, that really set the scene. The title track didn't just set a new path for bands to follow, it bulldozed its way through the indie landscape completely. It was loud, melodic, frenzied, with angelic, harmonious, barely audible vocals drifting above the sonic barrage. It was a sound aspired to and copied by many, a sound clash of beauty and brutality. They followed it up with the LP Isn't Anything, which again was a sonic revelation. The Valentine's music was dense, atmospheric, euphoric, drifting, sensuous, barbed, raging, melancholic and it was the fact that it encouraged this continual listing of adjectives that lead to it, and the bands it influenced, becoming so popular in the music press – for broad sheet music journalists this was a godsend. The January 5th 1991 issue of Melody Maker carried the cover headline, "Ride: Your Brightest Hope For A Grand New Year". A month later, Melody Maker's own Paul Lester was heaping praise upon Slowdive in a live review, asking "Lowpoints? None. Peaks? Lots and loads and millions", and declaring "Isn't Anything? Slowdive are everything."
But, ironically, it was this championing by the enraptured music press that resulted in the movement's rapid decline. As always there was a need to attach a label once it became obvious that a bunch of similar sounding bands began to appear and coalesce. And so it was that having noticed that the likes of Lush, Ride, Slowdive, Moose and Blur were all hanging out together at the same clubs, going to each other's gigs and wearing each other's t-shirts, Melody Maker labelled them 'The Scene That Celebrates Itself'. This clearly wasn't concise enough so before too long the bands were being referred to as 'Shoegazers', thanks to Sounds journalist Andy Hurt noticing at a gig that the members of Moose were spending a lot of time staring at their effects pedals. With the death warrant duly signed, the path was clear for Grunge to bang in the final nails, and by September 1992 Melody Maker was carrying the headline, "Whatever Happened to Shoegazing?"
Of course, the sound is ever popular today, despite still being referred to as Shoegaze. When Robert Smith announced that My Bloody Valentine were to appear at his Meltdown festival in 2018 and then Ride and Slowdive played at The Cure's 40th Anniversary gig at Hyde Park a month or so later, while both were enjoying successful comebacks and gaining a whole new audience, it felt like a celebration of that much maligned scene, as well as a vindication for all those who had got behind it first time around. The music has endured partly because it is so anti-rock, devoid of all posturing and machismo, but also because it wasn't really about language. Lyrics were often indecipherable, it was about more emulating an emotion through texture and tone, stripping away personality and meaning. These are the qualities that give it a global appeal. It was the music of My Bloody Valentine that truly defined it as a genre, and it seems that their sound is still the one that bands will try to emulate above all others, but Slowdive are the band that suffered the biggest critical backlash, and their story epitomises both why the scene failed at the time and why it is so collectible now.
It was always about EPs, and there were a great many of them. Slowdive themselves released 3 between November 1990 and June 1991, each capturing what would become their signature sound perfectly, that unique and dream-like melding of ambient and rock that recalled Kosmische and helped form a template for post-rock. In his Melody Maker 'Single of the Week' review of Holding Our Breath, Ian Gittens wrote "Rachel's voice is far, far away, caught in the wash as bright wight guitars … ebb and sweep like the distant tide". Fitting and typically poetic words. However, with a description like that, and in a pre-internet age when it wasn't always possible to hear music before you bought it, bands may have suffered at times because the music couldn't meet with the high expectation the reviews encouraged. Those initial Slowdive releases did justify the praise but, ultimately, they failed when it came to producing an album's worth of material of a similar quality, and their debut LP was duly, and unfairly, panned. A similar fate befell many of their contemporaries too, with the long-playing debuts of Lush, Curve, Moose and Catherine Wheel all taking longer than they should to record due to the weight of expectation, and when they did appear, they were doomed to disappoint. Another problem had been that, with each new EP released, My Bloody Valentine were continually raising the bar. Upon hearing the track Soon – from the 1990 EP Glider –  Brian Eno proclaimed it to be the future of music. But when, in late 1991, the band finally released their second LP, the masterpiece that was Loveless, they had raised the standard for experimental guitar music to such a height that it was impossible to follow. Who knows, had the scene been given licence to just keep releasing 12-inch EPs and not bother with albums at all it might have endured for a while longer – one short but productive burst of creativity in the studio and then on to the next one.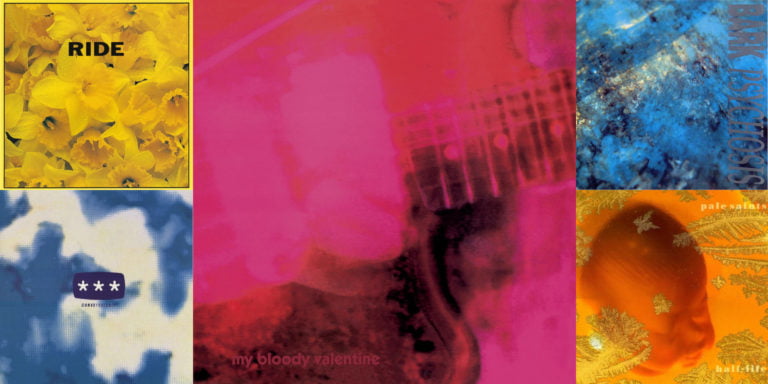 It wasn't all about the music though, there was the artwork too. Again, the early Slowdive releases, along with those of My Bloody Valentine, were classic examples. With a few exceptions, the band's faces never appeared on the sleeves, with blurred, colourful, abstract images often used instead. The effect of this was to perfectly complement the ambiguity of the music contained within, whilst adding a layer of mystery in the process. It's nice to think that there might be a completist out there who has collected all the vinyl editions of EPs & LPs from the UK scene between 1990 and 1992 and who is planning to open an art gallery somewhere in which to display them all. It would be well worth the entrance fee, with or without an Art Fund member's discount.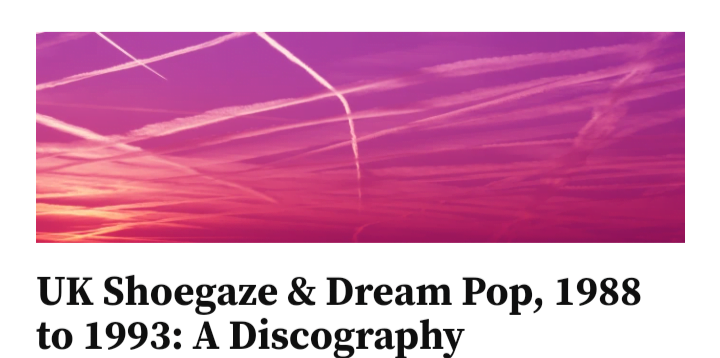 You can find an extensive discography of the UK Shoegaze movement between 1988 and 1993 here, as published on previous blog, Fuzzed Up.
My Bloody Valentine – Soon
Pale Saints – Throwing Back the Apple