The Sound of The Underground:
New York No Wave
From the Velvets came punk, and from Punk came No Wave. That's as brief a summary of the New York underground music scene of the 1970's as it's possible to give. No Wave was a reaction to the mainstream, and to punk-rock itself even. Stemming from a disparate group of artists in the derelict, pistol-whipped Manhattan wasteland that was the Lower East Side, the scene centred around a handful of bands; DNA, Mars, Teenage Jesus and The Jerks, The Contortions and Theoretical Girls among them. A new arrival in New York, Brian Eno took a shine to this nascent scene of (anti) musical upstarts and featured four of them on his No New York compilation, with DNA, The Contortions, Mars and Teenage Jesus contributing four tracks each. The scene now had a name, as well as a sound. It wasn't a collective sound as such, but the acts were united in their desire to create music that severed any association with rock music and it's traditions. As Lydia Lunch of Teenage Jesus put it, "Everything that had influenced me up to that point I found too traditional – whether it was Patti Smith, The Stooges, Lou Reed's Berlin. It was fine and good for it's moment, but I felt there had to be something more radical. It's got be disembowelled." The music was, predictably perhaps, difficult to listen to. It was atonal, abrasive and chaotic. Many of the 'musicians' couldn't play their instruments, with most being artists or film-makers and who subsequently took a conceptual approach to the sound they produced, meaning that a live set was less like a conventional gig and more like a performance art piece: shows would often end in violence, and all for the benefit of the art.
More often than not, the music would also lack anything that could be described as a rhythm in any conventional sense. In the late 70's Disco had become the vacuous, sequinned nemesis of the New York underground; music for affluent uptowners that had nothing to do with art or the harsh reality of life on the Lower East Side, nor the world beyond. It could be said that, by association, rhythm was the enemy. But from the dissonant rumblings of these early No Wave extremists, a rhythm developed. Soul Jazz Record's compilation New York Noise is an excellent introduction to this post No Wave scene. Across 16 tracks from 13 artists, it's an ideal sequel to the Brian Eno produced No New York, released in 1978, and illustrates how new artists with the No Wave ethos melded danceable grooves to the trademark atonality and chaos, not as a response to Disco, but in spite of it. Ironically, it's a sound that might have evolved had Eno himself seized full control of the scene and continued the funk and afro-beat experimentation that he'd enjoyed whilst working with Talking Heads. But then some of the music's essential rawness may have been lost. If the DJ's responsible for the sounds that filled the indie discos of the 80's & 90's had been wise to this music then the walls would have been alive to the sound of Do Dada by The Dance or the Bush Tetra's Too Many Creeps, instead of the perennial diet of Love Cats and Blue Monday.
There are two notable omissions from the New York Noise; ESG and Liquid Liquid. Their music has arguably been more influential than any of the acts on the album. Both shared a heavily percussive groove foundation and use of conventional instruments, as opposed to synths and electronic beats, and, significantly, the music of both has been heavily sampled.
Hailing from the Bronx, ESG (standing for Emeralds, Sapphire, Gold) initially comprised of four sisters, Marie, Deborah, Valerie and Renee Scroggins, along with their friend, Tito Libran. Later, they would be joined by, among others, Chistelle Polite, Nicole Nicholas and Nicholas Nicholas. As well as being notable for their magnificently named band members, ESG quickly gained a reputation as one of New York's most dynamic bands. They soon attracted attention from across the water, more specifically Factory Records, and Martin Hannett was subsequently drafted in to produce the three studio tracks from their first, 6 track, eponymous EP. It was released on their US label, 99 Records, whilst Factory released a 7? featuring the 3 Hannett produced tracks; You're No Good, U.F.O and Moody. There followed one more EP on 99 Records the next year, and then the debut album a year later, in 1983. 'Come Away With ESG' is a classic, and a worthy addition to anyone's collection. From the unconventional four-to-the-floor reggae of Come Away, to the brooding, stammering pre-Madchester groove of Chistelle and the punchy Tiny Stucks, to the more conventional pop of The Beat and My Love For You, it's an album that barely pauses for breath, and showcases just how unusual and inventive ESG were in their first phase.
Liquid Liquid's origins can be traced to the No Wave scene, but their music is far more rhythmic. Stripped down to just bass, drums and percussion, the rhythm is the framework to Liquid Liquid's sound, fleshed out occasionally and sparingly by Sal Principato's distant, shamanic vocal, creating a dance music that is dark, tribal and subterranean; that literally belongs to the underground. Their first release came about thanks to bassist Richard McGuire dropping off a tape at 99 Records, then a popular record shop in West Village, having heard that it's owner, Ed Bahlman, had begun pressing records on his own label, also called 99 Records. Liquid Liquid's urban funk was a perfect fit, and this is where the Liquid Liquid and ESG stories converge. The new label mates would both become early victim's of the relatively new practice of sampling, and in Liquid Liquid's case, it would ultimately lead to their demise.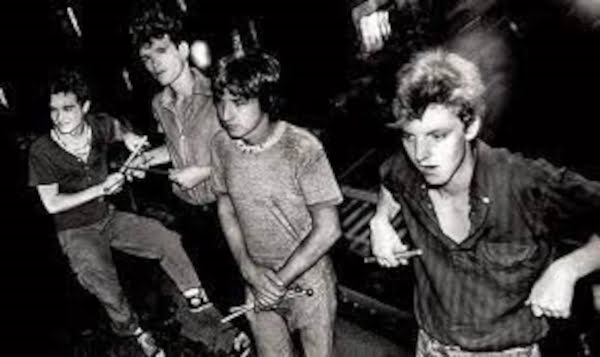 Their fourth release, the Optimo EP, contained Cavern, a track that is now instantly recognisable as the rhythm track for Grandmaster Flash's massive club hit White Lines, but at the time of it's release would have sounded like nothing else. Retaining the sparse, urban feel of much of their music, it was more uplifting in tone thanks to it's oddly melodic two-note bass line and Principato's equally catchy repetition of the words 'slip in and out of phenomena'. It was no surprise that the track caught the ear of Sugar Hill Records, whose house band then recorded it virtually note for note for the Grandmaster hit, though changing the words very slightly to 'something like a phenomenon'. Sugar Hill had become known for this kind of plagiarism, with Nile Rodgers having famously threatened legal action action against the company for their use of the Good Times bass line for Rapper's Delight. As was the case with streaming in the late 1990's and early 2000's, there was lot of uncertainty about the legal implications of sampling in 1983. In the case of Cavern it was complicated by the fact that it hadn't been sampled as such, it had actually been re-recorded. Whatever the ramifications, Ed Bahlman decided to pursue the case legally and when it finally came to court, he, and 99 Records, won the ruling. Despite the success, Sugarhill Records filed for bankruptcy, and, left broken by the case, Bahlman pulled the plug on 99 Records. Now without a label, Liquid Liquid themselves made the decision to call time on a career cut tragically short.
As for ESG, a track from the debut EP, the hypnotic, sinister and spacey U.F.O, has become one of the most sampled tracks of all time, and a quick visit to WhoSampled.com will reveal that it has actually been sampled a whopping 437 times. Hopefully they've been adequately reimbursed for the use of their music, but, as with Liquid Liquid, the collapse of 99 Records left them without a label and, with Ed Bahlman retaining ownership of the master tapes, ESG were left without control of their own back catalogue. A sad story then, but it wasn't the end. This was the sound of the New York Underground and stayed there for too long – in many ways it belonged there, seeping into the stonework and bouncing off the walls of basement clubs, but it also warranted a larger audience. Both bands reformed in later years and, thankfully, both have now achieved the recognition they deserve.
The original versions of Liquid Liquid and ESG's 99 Records releases now fetch inordinate sums, but happily ESG's classic Come Away With has been re-released in the last few years, and there were a couple of Liquid Liquid compilations in the late noughties. Let's hope more will follow, it's music with a rich legacy and deserves to be heard.