A Glitch In Time: The Parallel Pop Universe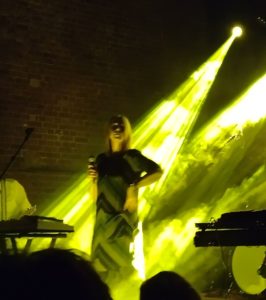 If time was an abstract concept then a Jane Weaver gig would amount to an after show performance at a secret venue following a triumphant Wembley finale to a sell out Greatest Hits tour. Her music has that timeless appeal. You can hear a song like I Need A Connection or Mission Desire for the first time and feel as if you know it already, that it's always been hanging in the air alongside Running Up That Hill or I Feel Love. I've seen her a couple of times in the last year and the set list is hit after hit, or at least it feels that way.
Jane Weaver and Gwenno are ploughing similar furrows of leftfield pop that offer an alternative to the music that happens to be topping the mainstream charts right now. Both produce music that has a timeless quality that is in part thanks to the clarity, purity, and directness of the vocal delivery, with the voice unsullied by the temptation to over-elaborate in the style that has become commonplace in the X Factor generation. Strong melodic hooks are another key ingredient, as is the subtle but constant presence of psychedelia in the form of dream-like moods and textures in the music of both, Jane Weaver's Flock and Gwenno's Tir Ha Mor being perfect examples. The overall effect is greater than the sum of its parts: you could hear a track for the first time and think that you've heard it somewhere before, but it isn't the song itself that's familiar but the ambience that the song creates, like being wrapped in an aural comfort blanket.
Their music exists in a world in which genres collide and time collapses, in which music that might be categorised as alternative today and aired only on BBC 6 Music could have been heard regularly on daytime Radio 1 playlists in the 1970's, 80's or 90's. It's a world that was hinted at by St Etienne in the 1990's but was first inhabited by Goldfrapp, whose debut Felt Mountain was released in 2000 and took it's musical influences from classic mid-century film scores, sixties euro-pop, soul and psychedelia, whilst still managing to sound contemporary. From there came a run of albums that changed direction each time, always progressing but with each also reflecting a different pop trend from the past. The result is a catalogue that takes in an array of styles and genres that include disco, folk, dream-pop, synth-pop and EDM, and one that amounts to a single-artist musical reference library, and in this alternative world a Goldfrapp singles compilation would be as ubiquitous as The Whole Story or The Immaculate Collection.
Another artist whose music seems rooted in both the present and the past is Tame Impala. Kevin Parker's 2010 full-length debut, Innerspeaker, was drenched in a form of psychedelia that wasn't that of the late 1960's' technicolour dreams and paisly scarves but the strain that was introduced by the burgeoning scene of the mid-to-late noughties that became known variously as Chillwave, Vapor Wave or Hypnagogic Pop. This was music recorded cheaply, often as home demo's, that sounded as though it was being listened to whilst semi-awake, invoking distant memories of forgotten hits from bygone decades – primarily the 1980's. Tame Impala took this sound a step further, with better production but retaining that same hallucinatory sheen that made it sound as though you were listening on medium wave radio to a song that you've known all your life. The accessibility of Parker's music has increased with every release to the point where, in this alternative pop universe, his latest album, 2020's The Slow Rush, has ensured that Tame Impala have become permanent fixtures on Top Of The Pops, which has never been taken off air.
If this niche form of pop music had to be given a name, then alt pop would be an obvious choice, but then can it really be called alternative if it reminds us of what was once the mainstream? Classic Pop or Retro Pop might spring to mind but they don't fit either because classic or retro imply a clear intent to produce the music of the past. For instance, Britpop was initially a collection of bands who proudly aligned themselves to a particular musical style or movement from the past, be it influenced by '60's acts like The Small Faces, The Kinks and The Beatles, the post-punk bands of the late '70's, or The Smiths, and their influences were obvious from the music they produced. This isn't the case with the likes of Jane Weaver, Gwenno and Tame Impala. As with all musicians, their influences will be absorbed and will then inform their music, either consciously or subconsciously, but it won't be immediately obvious what those influences are. Listen to a song like Tame Impala's Patience, for example, and in time it might remind you of Scritti Politti or Supertramp because of the production or vocal style but not because of an overt intention to sound like those artists. Another good example is Mrs. Magic by Strawberry Guy, a track whose drifting piano and blissful waves break intermittently in moments of gentle melancholy, evoking a sense of nostalgia for a time that you can't quite place.
In this alternative universe a Now That's What I Call Music compilation could also include tracks by acts as disparate as B.C. Camplight, Angel Olsen, Mac DeMarco, Katy J Pearson, Metronomy, Lou Hayter, The Orielles, Sweet Baboo, C Duncan and Khruangbin, none of whom have a connection to each other aside from the fact that occasionally their own talents and inspirations will conspire to create a song that instantly sounds like a lost classic, a song with a wise head on young shoulders that asks "how has it taken this long for someone to write me?" An added bonus to spending time in this musical otherworld is that, whilst others are paying upwards of £100 to stand and watch their favourite acts at a distance in a park in Central London, you can pay a fraction of that price and get close enough to see many of these artists without the aid of binoculars. It would cost a fraction of that to see Jane Weaver or Gwenno. You might even get a comfortable seat.