There's Something in the Trees.
This post was originally intended to focus on a couple of recent records from Warrington Runcorn New Town Development Plan and Wooden Tape. But, as you are about to discover, it's become something else. It's a bit of a ramble basically, but given the subject matter, that's probably quite apt.
We've spent a fair amount of time in the countryside in the last few months. On the whole it's been wonderful and has given us everything that we hoped it would; nature, tranquillity, wide open spaces, nice walks, nice weather only interrupted by the occasional dramatic storm whilst safely indoors and, at night, skies so dark that you can see the stars in all their celestial and multitudinous glory. When I say on the whole, nothing bad has happened, far from it thankfully, but there has always been a sense that something might, and if not bad, then definitely something strange. That nothing horrible has happened to us is, of course, partly down to the fact that we adhered to the Survival Code that was forced upon all children of the 1970's and 80's, in other words we avoided flying kites near electricity pylons, didn't get too close to rivers or streams (and were doubly cautious when approaching standing stones), didn't play with fire, would have said an emphatic 'no' to any stranger who deigned to ask us anything dubious, and without question, and despite the temptation to do so, we were careful not to play Cowboys & Indians on farmyards – even though we stayed at, and walked through, many.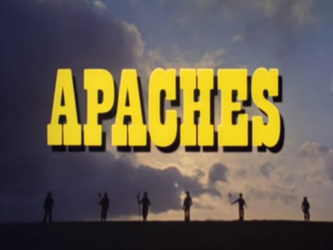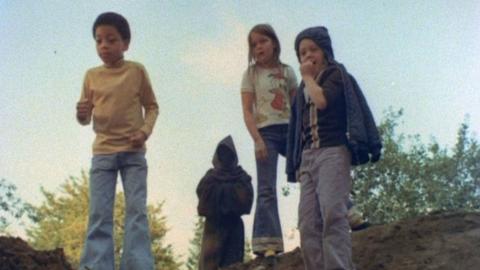 And so we return to Warrington Runcorn New Town Development Plan and Wooden Tape, the initial inspirations for this post. With the release of the 'Building A New Town' EP from the former and the equally impressive debut LP from Wooden Tape, 'Music From Another Place', in recent months it has occurred to me that Hauntology has gone full circle. Both records have strong folk influences and are bucolic in tone, evoking memories of balmy sunny days spent playing in fields in the school holidays, as well as recalling the TV soundtracks of the 70's & 80's. In that sense both encapsulate the sonic worlds that were bought to us by Ghost Box 20 years ago, when Hauntology as a musical genre was first clearly defined, by artists such as Belbury Poly, The Focus Group and The Advisory Circle. The music of those artists, though predominantly electronic and often embracing Cold War and industrial themes, always had an air of the country about it, or at least it did to these ears. The titles were a giveaway too – 'As The Crow Flies', 'Farmer's Angle', 'The Willows' and so on.
Hauntology as a sound has evolved over time, becoming more varied and embracing wider influences, and perhaps now it has reached, if not a conclusion, then at least a logical end to a first phase. With the overtly electronic, and at times sinister urban sounds of releases such as 'People & Industry' and 'Districts, Roads, Open Space', Gordon Chapman-Fox, aka Warrington Runcorn, had driven Hauntology into the city: with 'Building A New Town', he's driven it back out again. He, and Tim Maycox of Wooden Tape, are blending acoustic instruments with electronic sounds to create music that is gentle and drifting, a comfort to listen to, but you still get the sense that there is something out there lurking, and if it isn't exactly evil, then it certainly doesn't have our best interests at heart.
But it isn't as if all folk or pastoral music, instrumental or otherwise, actually sounds sinister or malevolent, on the contrary. If I hear anything vaguely reminiscent of the theme from 'Tales From The River Bank' it just conjures an image of guinea pigs and hamsters shuffling around a fake rural set in a TV studio. I think it's just that if the music sounds ancient or overly jolly, I might get suspicious, and that's just one of the reasons that 'Day Trip To Bangor (Didn't We Have a Lovely Time)' by Fiddlers Dram can put me on edge. And so we come to The Wicker Man, and the part that has played in my subconscious distrust of the countryside. If there is anything vaguely quirky about a small rural town or village that we happen upon then I'm sure there are many of us who will liken it to either Royston Vasey or Summerisle.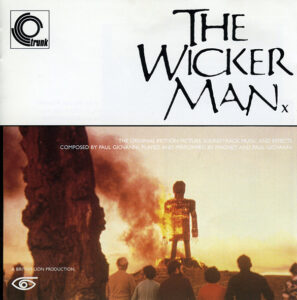 Thanks to Trunk Records late 90's release, the excellent Wicker Man soundtrack was key to the folk resurgence at the turn of the millennia. That soundtrack, and the film itself, along with other classic Folk Horror movies & TV series of its generation, is also key to any continuing distrust of the countryside we might have. So, in the year of its 50th Anniversary, let us raise a goblet to The Wicker Man and, as we are next walking across freshly ploughed fields heading for the village pub on a warm sunny day, let us remember that it is Paul Giovanni's soundtrack and its association with Sergeant Neil Howie's unfortunate demise that has helped instil that misplaced but lingering fear in us all.
It is misplaced, isn't it?
'Maypole Song' – taken from 'The Wicker Man' soundtrack.
Warrington-Runcorn New Town Development Plan – 'The View From Halton Castle'
Wooden Tape – 'Geodesic Eric'.
Warrington-Runcorn New Town Development Plan – 'Building A New Town'.
Wooden Tape – 'Music From Another Place – Vinyl LP + exclusive signed poster.