The following is lifted from the old blog, 'Fuzzed Up', and was my tribute to the legendary Tim Smith of Cardiacs upon his death on 21st July 2020.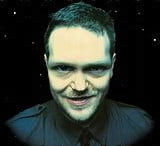 Leader Of The Starry Skies: A Tribute To Tim Smith
I wanted to start by saying that I don't often feel compelled to write about musicians at the time of their passing, but I feel as though I've done it a few times recently so maybe that isn't true. It's a been a busy few years as far as deaths of musical icons are concerned. And icons is on over-used word, and I'm also conscious that I've used the word 'genius' a few times in tributes I've posted, which is itself a word used so much and by so many that it's meaning loses any significance. So I'm not going to use it any more, and hopefully the words that follow will make my thoughts clear enough.
The last time I posted a tribute on here was to the late Mark E Smith, two and a half years ago, and I then didn't post anything at all for two years. That was just a coincidence, and nothing to do with any sort of prolonged grieving process I may have suffered. However, in contrast, with respect to the passing of Tim Smith, I'm probably likely to post more from now on. He was that inspirational, and his music so creative that something seems to rub off. I won't begin to compare the two Smiths, Tim and Mark E, because in some ways they could be seen as similar, but really they were nothing like each other, and the whole point about Tim's band, Cardiacs, is that you can't compare them to anyone, and that's the ultimate compliment you can pay to any band, especially one that had such a devoted and loyal following.
Cardiacs were uncategorizable. They were loved by prog fans, but to have seen them on the same bill as say Rush or Spock's Beard would have been odd to say the least. They were definitely punk, but play Sing To God in the same sitting as Never Mind The Bollocks and you'd wonder how one musical era could produce two such different sounding bands. To me, the weird thing is that anybody could have liked Cardiacs but clearly not enough people did. I only got into them at the turn of the millennium, but I'm sure that if I'd first heard them at the age of 7 or 8 I would have loved them immediately. It's music for grown-ups but then, at the same time, it isn't. Critics might say that their music is impossible to like and, while calling it out for it's nursery rhyme qualities, suggesting that a child could write it. But a child couldn't have written Too Many Irons In The Fire or Tarred And Feathered, or anything ever recorded by Cardiacs, and neither could a 55-year-old professor of music. Cardiacs music could only have been created by the mind of Tim Smith.
It has occurred to me that when asked to compile a list of, for example, my top 5 bands, tracks, albums or gigs, Cardiacs never feature. But they should. And it's not because they don't deserve to. It's more because I don't think of them in terms of any other musical act, or any other music in any normal sense. They just never occur to me in that context. They were that different, that otherworldly almost. They were like an imaginary band that everyone would want to exist, but, thankfully, they did exist, but not enough people know it. Yet. Thanks to Tim Smith's musical legacy, Cardiacs are still there to be discovered, and I envy those who are about to.
I'll sum up what Cardiacs mean to me but saying this. Like many other people, maybe like everyone, I listen to music because occasionally it can take you out of yourself somehow, maybe in the way that people experience a moment of spiritual enlightenment, or a physical high. That's probably why I've always listened to bands like Cocteau Twins and My Bloody Valentine, because there is that, dare I say, ethereal quality to their music that can provide that brief sense of euphoria. But despite having seen both those bands, and many like them, live, and having been almost moved to tears at live shows a couple of times, I have only once felt what could be described as a genuine and prolonged sense of elation and being taken out of myself, and that was at a Cardiacs gig.
Tim Smith, a man genuinely touched by the G word.
RIP.
Cardiacs – Pip As Uncle Dick But Peter Spoiled It.