Label Focus: Unspun Heroes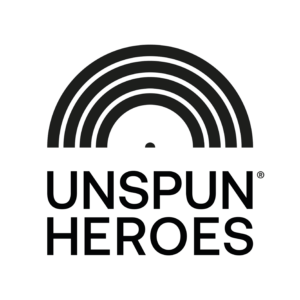 When asked the question, 'which was the best era for music', the answer might depend on our own specific preferences, be it the late 60's, mid-70's, early 90's etc. In fact the best way to answer might be just to say right now. As well as the wealth of new music that's being produced, there is so much from bygone eras still to explore. The problem is, some of it is buried so deep we might never get to hear it. That's where re-issue labels like Spinney, Trunk, Buried Treasure and Record Collector Magazine's own reissue series come in. Without them we might never have heard the music of Vashti Bunyan, or in the case of Trunk, the list of unearthed gems is huge. There will always be new music from the past to discover, and what better way to listen to it than on vinyl? And now we have a brand-new label to help us in that quest – Unspun Heroes. Here's label founder Simon White to tell us more…
LF: Firstly, what is your own background – have you been involved in the music industry before?
SW: Directly? Not really, ever. I was in bands as a teenager, but that was so many years ago it's like another world – and we were never, ever going to make it. I was also a DJ in the 90s, but wasn't everyone?
I have indirectly worked with musicians through my previous career in advertising – so, building websites, writing about music, licencing and commissioning music for adverts, etc. And I've bought a lot of music over the years, plus going to hundreds of gigs and grabbing merch. So you could say, I've been an ardent supporter of the music industry. I continue to do that – the buying, the merch and the gigs. The advertising part has gone away.
Tell us a bit about the label – what inspired you to set it up and has it been long in the planning?
The short story is, Unspun Heroes was a name before it was a label.
The longer story is, I had an idea for getting together with good people to listen to albums that were underappreciated. While every idea needs a good name, which I had, I realised that a get-together was a bit lame. So I decided to build it out into a label with the remit to issue albums on vinyl that have never been released on that format – or not reissued for many, many years.
Our blog and social feeds will continue to champion music that is underappreciated, though. I think breaking away from the algorithms and finding music recommended by real people is a great way to expand your listening. Being exposed to new music by a fan of a specific album or artist has a lovely feel to it.
Unspun Heroes has been around since 2 April 2023. Yep, we are very shiny and new.
What releases do you have lined up and can you give a bit of background to the artists involved?
Being so new and shiny means that, while we have some releases that we are in conversation about, there isn't anything (at the time of writing) that we can talk about publicly. Which is a real shame. What I can say is, two of the releases scheduled are on our website, and the third one features on our Instagram grid.
The first pressing that's going to happen will be announced very soon, though. The best thing is to follow us via Twitter and Instagram, as that's the easiest way to find out what's coming up and when.
I would ask where the idea for the name came from but it's one of those ingenious monickers that perfectly encapsulate what the label is about. So, instead of that I'll ask which labels you see as role models, if any, and which labels you have been a fan of in the past?
Labels was an area I hadn't given a huge amount of thought to, previously. It was always about the artists and the music. However, you've mentioned some amazing ones already, and I'd probably include Warp and (the now defunct) Mo' Wax on that list of recognisable names. However, since starting up I've been digging into Bandcamp and social media to find small, indie labels doing similar things to us. There are plenty of great labels run by people passionate about the music, and they're releasing amazing music that I probably wouldn't have been exposed to had I not started on this journey.
It's always hard to call out individuals, as inevitably someone gets forgotten. Regardless, here goes! The team at Needle Mythology have been super helpful and supportive, for example, and their ethos chimes with ours. Big Potato Records continues to be a source of brilliant music they've unearthed, although I was first made aware of them through Danny George Wilson of Danny and the Champs fame and his recommendation of the Emmett Finlay album. Curation Records are another label I seem to be buying a lot of music from. I've also met a lot of small label owners along the way, such as Tom from Shapes of Rhythm, and I keep seeing beautiful releases in stores and I'm immediately looking to see which label has released it! Oh, I'm also digging the designs (and music) coming out of Hanky Panky Records. This list is not, and will never be, definitive.
I'm learning as I go, but other label owners have really been open about helping. While it might seem as if we're in competition, it's more of a case that we lift one another up. A similar thing is clear from getting out and meeting indie record store owners – they are supportive, want to help with contacts and advice. It's also an obvious way to get our releases out directly to stores when the time comes.
Artwork is often a key feature in the identity of a label and it can become synonymous with a certain distinctive style, I'm thinking of Ghost Box, 4AD and Factory in particular. Is a consistent design theme something you have in mind, or will each release have its own unique artistic character?
Coming from an advertising and design background (even though I was a copywriter), I know that this is an area which makes a difference. You want to be on a store's wall, or to jump out at potential buyers from a magazine or webpage. A constraint we have is that the album artwork is already set. We are not pushing artists to change their choices for us. Therefore, we are looking at how we can create something special using printing techniques, commissioning new liner notes from notable people, and so forth.
We're creating something that is ownable for Unspun Heroes with a distinctive obi strip on each release. Where possible, these will be signed by the artist/band, and they'll be numbered, although we hope the design will make them collectable (in a sense). It's a part of the release that will allow the label to bring design consistency, but also add something to the release that you won't get from subsequent pressings.
Ultimately, we are looking to add design flair where we can. Expect aspects of our releases to even be handmade or hand-finished, and include items that you can only get from buying direct, for example. We will strive to make the buying experience as wonderful as the listening.
And finally, as a thinly veiled way of getting you to reveal your own musical preferences, if you could pretend that they hadn't already had a vinyl release, which albums, past or present, would you love to put out on Unspun Heroes?
There is a huge list. I mean, it currently numbers hundreds of releases across just about every genre. And I think this probably changes on a daily basis. I'm happy to say that the album that started me wanting to do this will be pressed for the first time ever and released by us late next year on its 20th anniversary, so that's something.
Okay, if I had to pick one album, I'd love to get Kirsty Hawkshaw's On Ultimate Things out on vinyl. I think it's quite wrong that it hasn't ever seen a release on that format, especially considering her place in the history of UK rave culture (not to mention her late father's contribution to UK culture in general).
It's not just about my choices, though. There are three other people behind the Unspun Heroes scenes helping uncover great music. We also want the wider music community to share their ideas and so we opened up an Unspun Heroes Community Playlist on Spotify. Anyone with an account can join and add music, and already I've discovered artists I hadn't ever heard and now want to release or reissue. This really gets to the heart of what we originally set out to do, which is to bring underappreciated music to other people's attention, and while it's early days the list has a decent number of contributors. I just need to remember to update the link every week!
Finally, I'd like to highlight a wonderful newsletter that brings you music from around the world you might otherwise never have heard (three times a week for a small price, or occasionally for free). It's called Ecléctico and I've been a fan of it for quite some time. Human-powered music discovery deserves support.