I've been to a lot of great record shops over the years but one of my absolute favourites is a shop called 'Swinging Sounds'. The owner's taste is impeccable. Alongside timeless classics from Marvin Gaye, The Velvet Underground, Bowie & The Beatles, they have albums by the likes of Broadcast, Stereolab & Magma. But what really sets them apart is that they have a Cardiacs album in stock. Record shops never have any Cardiacs. But then again the thing that really, really sets 'Swinging Sounds' apart is that the shop is a model. 
Welcome to the world of Hey Kids Rock'n'Roll. It's a world in miniature, of Alice Coltrane felt decorations, Bobbie Gentry paper dolls, David Byrne puppets, Sandy Denny calendars and Sun Ra Dioramas, where Delia Derbyshire has a studio next door to Daphne Oram, and where you can fullfil a life-long dream by owning your own cinema, record shop or even CBGB's. You can even have a scene from Quatermass and the Pit sitting proudly on your mantlepiece. 
The mastermind behind this Lilliputian Wonderland is Sean Bright, and here he is to explain a little more…
LF: You were already a professional artist before Hey Kids Rock'n'Roll, is that right? If so in what field?
SB: Not really! I studied illustration but I'd been working in warehouses for years.
How would you describe Hey Kids Rock'n'Roll and how did it come about?
Well, the last warehouse I was working in was closing, I'd decided to give the illustration stuff another go and thought a little etsy shop sideline would provide some day-to-day income while I set that up…but it ended up taking over!
Is there any one product that has proved the most popular?
The Kate Bush felt decorations, definitely. I genuinely can't make them fast enough at Christmas – I'm sure people think I'm just trying to create scarcity but no, they just take ages!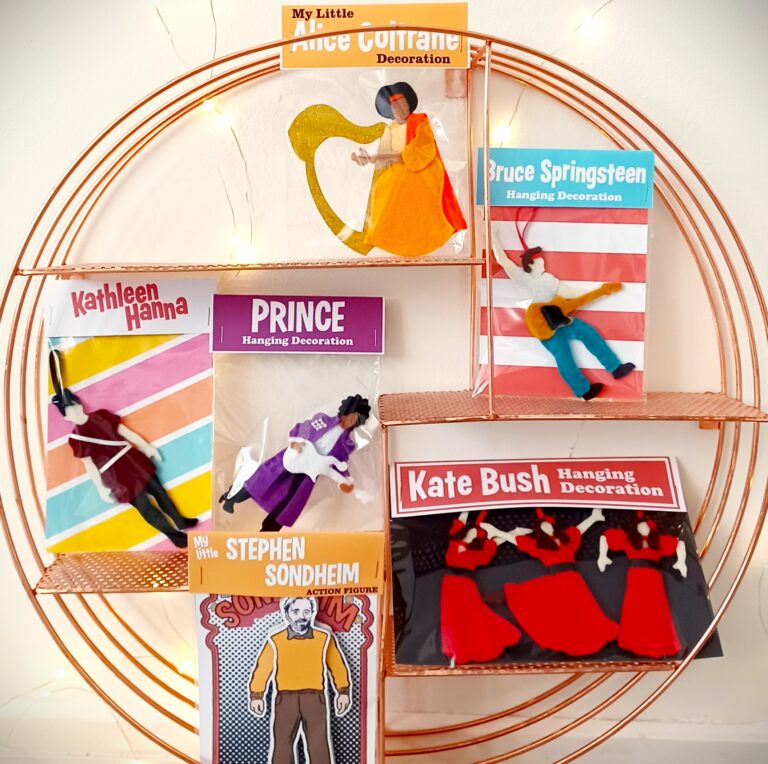 Time to put you on the spot – which have been your favourites, both in terms of enjoying the idea and creative process, and the finished article itself?
I liked the idea for the Bob Dylan memo-pads a lot but as an overall thing I think the record shops – I did go a bit mad drawing all the little records for that but it was the first lockdown and everyone was going a bit mad so nobody noticed!
Are the products still mostly your own ideas or are there increasingly more commissions now?
The shop products are all me – I'll occasionally get suggestions but I basically decide on all that stuff. I have started taking on more and more commissions outside of the shop though. 
What commissions have you worked on recently, or are you sworn to secrecy?
I've done a Metallica thing for a magazine, I think that should be out pretty soon. There's a few other bits going on but I don't know when they're coming out so I probably ought to keep schtum!
One of the great and most distinctive features of Hey Kids Rock'n'Roll is that, although known, some of the artists you choose might be considered quite niche to some, 'outsider' artists even – Klaus Nomi and Suzanne Ciani for example. Is that something you aim for or is the fact that you might be introducing people to them for the first time an added bonus?
A little bit maybe. One of the benefits of being an online consideration is that niche stuff can find an audience and that audience can often be more appreciative than a more 'mainstream' one. That said it mostly comes down to what appeals to me visually, I do really like Suzanne Ciani but I did also REALLY want to make a tiny cardboard Buchla.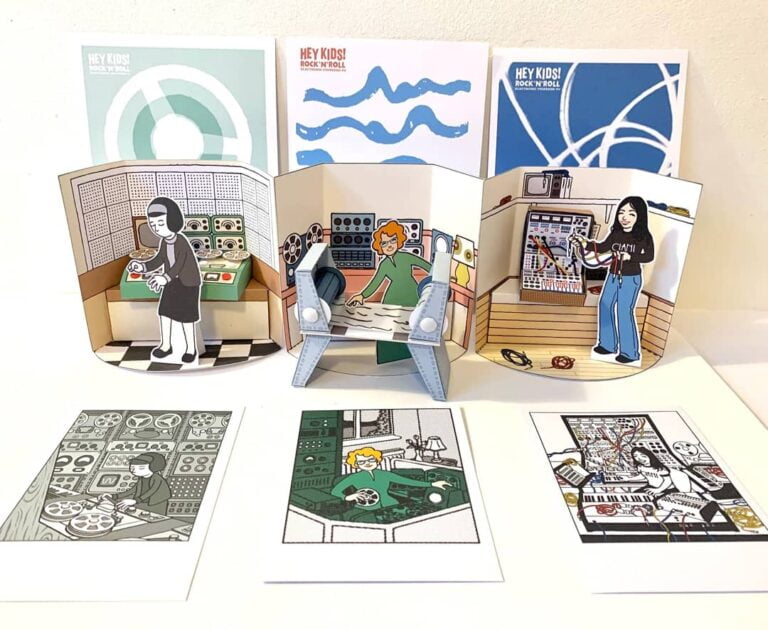 Have you had any comments or endorsements from anyone you've based a product on?
Stephen Sondheim apparently had a model I'd made of him which he found – and I quote – 'amusing'. This is without question the pinnacle of my career.
Is cover art something you'd like to get involved in or have you been involved already?
Ha – I refer you to my earlier answer about projects where I have to keep schtum! But yes, I'd like to do more.
On the spot time again – if you had the chance to re-design a cover of a favourite album whose sleeve you've never been too keen on, which would it be?
Most of Bob Dylan's – I love him dearly, possibly my favourite artist in any sense of the word but since about 1970 his LP covers have been mostly dreadful.
And which is your favourite piece of cover art?
The Byrds 'Sweetheart of the Rodeo' (adapted from a poster by Jo Mora). Or maybe a Jim Flora one like 'Mambo for Cats'.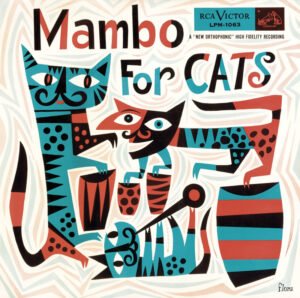 What new projects do you have lined up?
I'm currently busy working on stuff for the Carshalton Artists Open Studios event. I'll have lots of Hey Kids product to display but I'm also planning on having a few bigger, one-off pieces to show. There'll definitely be a Paul McCartney Bagatelle table for people to play! That's June 24 & 25 and July 1 & 2, then after that I'll relaunch the online shop with some new items around the end of July, might finally get around to the Wendy Carlos model I've been promising for 4 years!
And finally, in a Tom Waits 'What's He Building In There' style scenario, is there an epic masterwork that you're already working on or that you have planned for the future if time should allow? 
Well, appropriate given you mention Tom Waits, I'd quite like to do something based around Harry Partch and his homemade instruments. Not quite sure what form it'll take but yeah…that!