Mind How You Go: A Beginners Guide to Hauntology
When I hear a track like Rue The Whirl by Boards of Canada, or The Advisory Circle's New Dimensions In, I am transported back to my school days and to those rare occasions when a snotty nose or nagging cough meant that I was deemed genuinely unfit to go in that day so was allowed to stay at home to 'recuperate'. Daytime television wasn't as it is now and viewing options were restricted either to staring at the test card or watching any one of a collection of educational programmes made for schools and colleges. In either case the accompanying music must have made an impression. It was library music generally, sometimes synth based, some might have been considered avant-garde, but it's what I think of when I hear those tracks, or at least some element of the music brings it to mind and, by association, the 1970's and '80's in general. 
In the recent Freak Zone Hauntology special on BBC 6 Music, Stuart Maconie describes Hauntology as, "an aesthetic of lost memories, partial memories, things forgotten, things hidden, things ignored, things obscure… It's now taken to mean that whole aesthetic vibe of certain music, certain television shows that evoke a feeling of disquiet and of memory of things which may or may not have happened."  In the same episode, Stephen Brotherstone – co-author of the Scarred For Life series of books – comments that Hauntology is a feeling of childhood but also a feeling of unease. A key feature of hauntology is that everyone will have their own view of what it is, or at least their own unique experience of it.
For me that sense of disquiet and unease lies in the fact that the memories evoked are wistful, happy memories but they often come with a warning. I can't speak for what it's like now but, for me at least, childhood in the 70's & 80's was to live with the carefree attitude that comes with having no responsibilities with your whole life ahead of you set against the constant threat of impending nuclear war. The public information films didn't stop at three-minute warnings either, there were also constant reminders that our lives could also be cut short by engaging in any number of seemingly innocent activities, like flying a kite or playing close to water. That sense of something vaguely sinister lurking beneath is a common theme with music described as hauntological. Take Pan Calling by The Focus Group, quite a cheery piece of incidental music on the surface but there is something a little creepy about it, whereas with a track such as Boards of Canada's Turquoise Hexagon Sun, the sense of threat or danger is closer to the surface, but, importantly, it's never overwhelming. 
The Focus Group – Pan Calling
That balance between light and dark is key. A lot of the music I associate with Hauntology can be described as upbeat, jaunty even, but is tempered by that aforementioned sense of disquiet, sometimes so slight that it might only exist in our minds. An excellent recent example would be The Garden Square in the Snow by The Hardy Tree, which is centred around a pretty melody, underpinned by a sense of melancholy that is merely a hint to begin with but steadily builds. It isn't danger at all, just a slight feeling of sadness that you can't quite put your finger on. It also shows that a piece of music doesn't have to sound particularly retro to evoke feelings of nostalgia or to unearth long lost memories of any kind.
A Garden in the Snow – The Hardy Tree
But there is often a retro-futurist element to music that falls under the hauntology umbrella. Early releases from the Ghost Box label in particular were undoubtedly reminiscent of the work of the BBC Radiophonic Workshop between the 1950's and 1970's, and intentionally so. There is a darker element to some hauntological music and would recall memories any number of films and TV programmes from that era, which in terms of kids TV shows would be considered far too weird and creepy for Children today. The soundtrack music to the mid-70's series Children of the Stones is a case in point, the Ambrosian Singers performance was haunting in the extreme. 
Perhaps it is recollections of the fear that those children's drama series could instil in us that also creates that sense of unease. For myself there was one specific TV moment that haunted me for what felt like years. It was during a children's drama series called Sky. In the opening scene a youth is out walking in the woods when he hears a whispered voice echo through the trees, "help me…". He edges tentatively toward the source, sees a pile of leaves moving on the ground, kneels, leans forward to investigate, and a hand grabs his arm. Startled, he looks up to see a blond-haired boy staring at him through eyes completely blue, no whites, and raise himself from beneath the bed of leaves. Such was the horror I felt, it still makes me feel a little uneasy when I think about it now. Perhaps it is the darker element to some hauntological music that recalls and replays that same feeling of dread.
Hauntology as a definite sound and approach to making music could be said to have begun in the mid-1990's, when artists such as Boards of Canada, Broadcast and Position Normal began to release music that was clearly inspired by the TV soundtrack music of the previous decades. This revisiting of the past continued thanks to a string of releases from Trunk Records at the turn of the millennium, which included the soundtrack to 1973 horror classic The Wicker Man and the theme music from The Clangers. However, it was with the launch of the Ghost Box label by Julian House and Jim Jupp in 2004 that hauntology became a recognisable genre in its own right. As that decade progressed so the sound began to spread it's influence further, branching out to create new genres and sub-genres such as Chillwave, Vaporwave and Hypnagogic Pop. But more about those another time.
Here are a few examples of tracks that best define the sound of hauntology:
Boards of Canada – Turquoise Hexagon Sun
Position Normal – Drishrun
Belbury Poly – The Eleventh House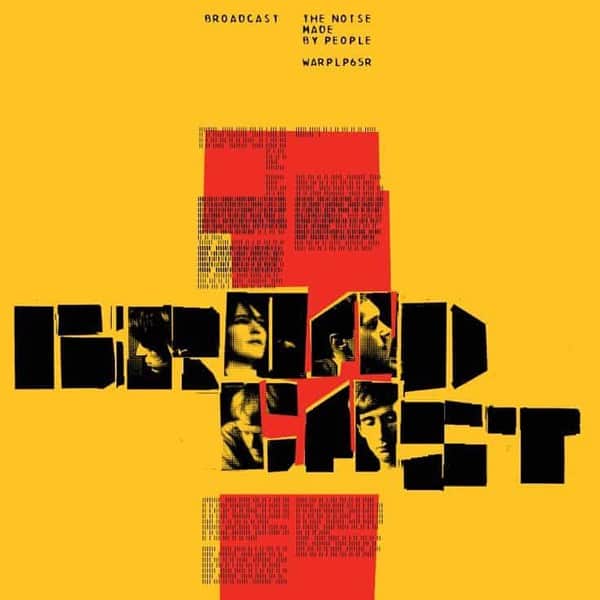 Broadcast – The Noise Made by People – 12-inch Vinyl LP