From Glaring Streets to Diamond Days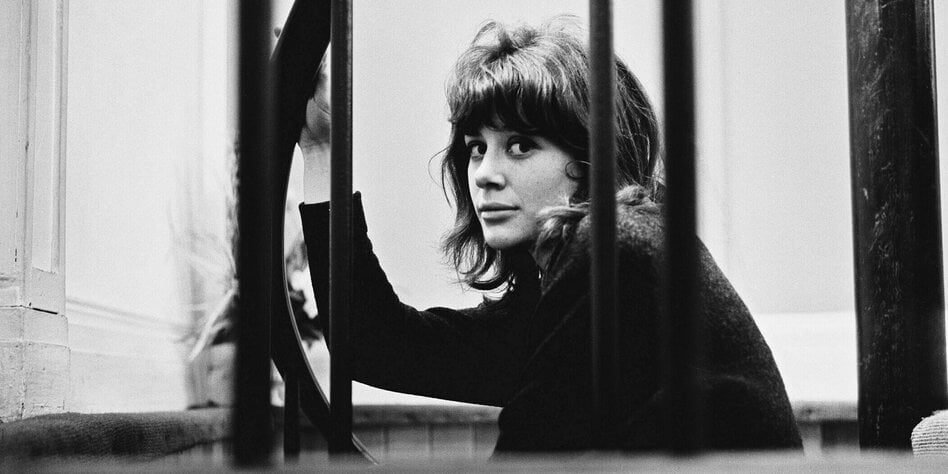 "This record is a kind of document of a pilgrimage lasting a year and a half. Vashti and Robert and Bess (the horse) and Blue (the dog) and an old green wagon fleeing London for the Outer Hebrides. Half way there, they stopped for the winter and a friend brought brought Vashti back to London for a short visit. She rang me, Did I remember her? And of course, I remembered. I had heard her three years before at a poetry reading, singing songs of delicate beauty that melted me on the spot. I had tried without success to persuade her to make a record– before she set out for the North. Vashti's songs may seem unreal to urbanized listeners but they should listen with open hearts and minds; I have never known anyone whose music is so completely a reflection of their life and spirit." – Joe Boyd, 1970.
Those were the liner notes to the original release of Just Another Diamond Day. The album sold poorly upon it's release and was soon forgotten. Vashti Bunyan herself was quick to put the experience behind her, calling time on her musical career in the process. In her recent memoir, Wayward: Just Another Life to Live, she writes that many years later at a Q & A session for the film about the journey, From Here To Before, Joe Boyd turned to her and apologized for having hired members of The Incredible String Band and Fairport Convention to play on the album, so forever condemning her to being called a folk singer. It's a tag that she bore begrudgingly as she felt that she was as much a pop singer as anything besides.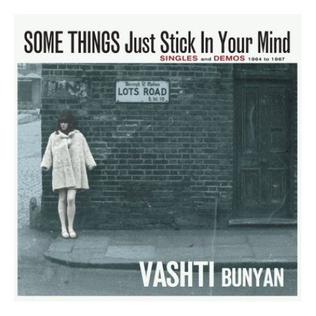 This highlights the ongoing problem with genre classification. We do it because basically it's easier for someone to find what they're looking for if it has a label. Just Another Diamond Day does have the feel of a folk album in large part due to the instrumentation used, fiddle, harp, mandolin, banjo and dulcimer for example. The era it was released in also plays it's part, the late sixties enjoying a wealth of inventive, progressive folk acts and albums, and this lead to a re-appraisal and subsequent increase in popularity of the folk scene of the period at the turn of the millennium, and the sub category known variously as Strange Folk, Acid Folk or Psych Folk in particular. Original pressings of albums by The Incredible String Band, Comus and Fresh Maggots became highly collectible and are now worth a small fortune. Just Another Diamond Day has been included in the bracket and is now among the most valuable.
But Vashti had a career as a pop artist prior to Just Another Diamond Day. Taken on by Andrew Loog Oldham, who saw her as a natural successor to Marianne Faithful, her first single was the Jagger-Richards penned, Some Things Just Stick In Your Mind, released by Decca in 1965. A retrospective of her mid-sixties career, also entitled Some Things Just Stick In Your Mind, was released in 2015. It is undoubtedly different in tone to Diamond Day, and has a definite Sixties charm, but the only major difference is in the instrumentation. Train Song, for example, would be a seamless addition to the Diamond Day track listing, and on a song like I Want Be Alone, that sense of wistfulness is there but just framed differently. Don't Believe What They Say swings in a very Sixties way but it's Vashti's voice that carries the song with the same fragility, a quality that is, ironically, it's strength. Interestingly, although Diamond Day is the album that is often labelled acid-folk, it is two of the songs included on Some Things Just Stick In Your Mind – Winter Song and Girl's Song In Winter – that would be more at home on the Wicker Man soundtrack. The question of how to label her music, and that of Just Another Diamond Day in particular is akin to describing the music of Nick Drake. They are both similar in that the acoustic sound and delicate, very English-sounding, vocal doesn't fit neatly into a recognised genre; Singer-Songwriter is too broad a definition. In Vashti Bunyan's case her sound could just as easily be described as Dream Pop, in which case she was a pioneer.
The eventual popularity of Just Another Diamond Day draws parallels US singer-songwriter Rodriguez. Having released two unsuccessful albums on minor label Sussex, in 1970 & 1971, he eventually quit the music business in 1976. What he didn't realise was that his popularity, lacking in his home country, was growing in Africa, a fact that remained unknown to him until 1997, when his daughter stumbled across a website dedicated to his music. Similarly, Vashti Bunyan remained oblivious to the fact that she had steadily, and quietly, been gaining an appreciative audience over the decades, until that is she happened to type her name into a search engine one day in 1996. Only then did she realise how popular Diamond Day had become. A re-release of the album followed on the Spinney label in 2000.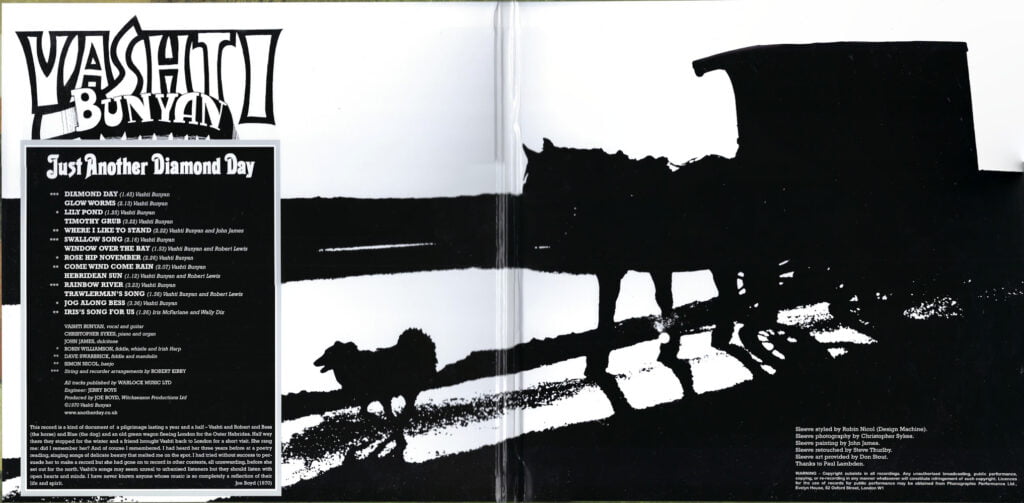 The reason Just Another Diamond Day has endured is in large part down to the idyllic nature of the story it documents, as well as the beautiful way it does so. The by-then hugely popular UK folk artist Donovan had bought some property in the Outer Hebrides with the view to set up a community of like-minded free-thinkers, and Vashti, along then partner Robert Lewis, were invited to join. Embarking on the journey with just faithful horse Bess as transport, trusty hound Blue, and a horse-drawn wagon to call home, they set off in 1968 and reached their destination a year and a half later. The album plays out as a literal commentary of the journey that seems to perfectly capture the varying moods and emotions that one might experience on such a quest. There are moments of joyful innocence (Diamond Day, Lily Pond), melancholy (Iris's Song), reflection (Where I like To Stand, Rose Hip November), yearning (Window Over The Bay), as well as finding pleasure in the simplest of things (Come Wind Come Rain, Jog Along Bess). It encapsulates a dream that perhaps many of us increasingly aspire to in these post-Covid times.
The liner notes to Wayward: Just Another Life to Live, describe the book as "a re-writing of one of the great hippie myths of the 1960's." Chasing that dream of a bucolic sanctuary wasn't nearly as enjoyable as it was supposed to be. The experience for Vashti Bunyan was bitter-sweet and didn't lead where she had intended. But we should all be grateful that she had the courage to follow that path, and that it resulted in such a magical record.